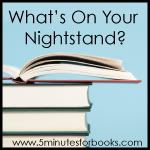 I've been doing "On My Nightstand" semi-regularly, but was inspired to post it today because of 5 Minutes for Books. If you're looking to see what other bloggers are reading, or some good reviews, check out the carnival at 5 Minutes for Books. Or write you own post and link up! They actually host it every month on the last Tuesday.
Books
Carrot Cake Murder by Joanne Fluke
The Moms' Club Diaries, Notes from a World of Play Dates, Pacifiers, and Poignant Moments, compiled by Allyson Condie & Lindsay Hepworth
Dare to Repair: A Do-It-Herself Guide to Fixing (Almost) Anything in the Home by Julie Sussman & Stephanie Glakas-Tenet
Do It Herself: Everything you need to know to fix, maintain, and improve you home by Joanne Liebeler
Angus, Thongs, & Full Frontal Snogging: Confessions of Georgia Nicolson by Louise Rennison
The Food You Want to Eat - Ted Allen
You Never Did Learn to Knock: 14 Stories About Girls and Their Mothers, compiled by Bel Mooney
Magazines
August issue of Martha Stewart Living
August issue of Cookie
August issue of domino
August issue of Lucky
Fall issue of Do It Yourself
August issue of Parents
I am actually reading the current issue of all the above magazines! Usually I am way behind. Although several of the above are still in the plastic. At least I have a few weeks before the September issues come out.